In the year of 2016, we were gifted with a whirlwind of brand new releases. From blink-182 to White Lung, each showed a new side and sound to them. It's so difficult to just pick one of my favorites, so I compiled a list of at least my top 20.
*all these songs were specifically from 2016 and they are my personal opinion.
*these are not ranked in any order
1."How Does It Feel?" Tonight Alive
A stand out on their newest album "Limitless", "How Does It Feel?" brings these pop-punkers back to their roots, while adding elements from their new record. Frontwoman Jenna McDougall's vocals soar over pounding drums and blaring guitars, and really captures a perfect balance of pop and alternative. 
2."Sleep On The Floor" The Lumineers
The first track of their sophomore effort, "Sleep On The Floor" invokes an indie pop sound over rolling drums. It really stood out to me off of their album "Cleopatra" as I especially enjoyed the lyrics that could make anyone think of taking a road trip across the USA.
3."You and I" PVRIS
The electro-rock trio re-released their debut album "White Noise" with two more songs and one of them was "You and I". A blend of dark pop and electronic instruments, it has this certain essence to it that makes it super addictive. A truly mesmerizing song, with a dark sounding beat, topped off with Lynn Gunn's fantastic vocals makes this song a real standout.
4."Carter and Cash" Tor Miller
Tor Miller has the face of a 50's movie star but his voice is unique on it's own. Taken from his album "American English" this love song gives the listener a throwback to the 80s. Using Johnny Cash and June Carter's love story, Tor delivers a nostalgic sounding song with a 21st century twist.  
"Dark Necessities"

Red Hot Chili Peppers
After 5 years, the Red Hot Chili Peppers dropped their new album "The Getaway". Off the album, the song "Dark Necessities" is where it really delivers. Not straying far from their signature sound, "Dark Necessities" talks about lead singer Anthony Kiedis's extensive battle with drugs. Melodic with climaxes and falls, the Red Hot Chili Peppers demonstrate their lyrical abilities. You probably have heard this song, as it was consistently played on the radio. Ending with a slick guitar riff, the Red Hot Chili Peppers once again prove age is just a matter when rocking out.
6."Sister" White Lung
A truly dark song, not only in the way it sounds, but lyrically speaking as well. White Lung doesn't shy away from any topic. They are no stranger to the music industry, but their newest album "Paradise" shows a more versatile sound that is more poppy sounding then punk rock. While the new sound can be attributed to frontwoman Mish Barber-Way's change in how she's singing due to vocal injuries, their songs still retain their hard-hitting sound. "Sister" is no exception, a twisted song about the real-life Ken and Barbie killers, written in first person of Karla Homolka who killed her sister Tammy in 1990. Gritty and fast-paced, Barber-Way snarls over the guitar, adding to the overall mood of the song.
"Bored to Death"

blink 182
One of the lead singles off their newest release "California", blink 182 are back with a new album, a new sound and new member. After founding member Tom DeLonge parted ways with the band, Matt Skiba of Alkaline Trio stepped in to fill Tom's place. While "California" can be seen as taken in a more pop friendly direction, "Bored to Death" emits the sound of their early hits. With Matt's vocals blending in with Mark Hoppus', they create a perfect sound that will resonate with the old fans as well as new ones.
8."WHY" Taeyeon
This year in KPOP (Korean pop music), we were gifted with various comebacks. Girls Generations Taeyeon was one of them. The title song from her solo sophomore album "WHY", brings a tropical atmosphere that we have never seen from her. Showcasing a more pop and EDM side then her notable ballads, she perfectly captures a summer vibe. With her strong vocals aiding her, "WHY" was a great anthem for 2016.
9."Save ME" BTS
Finishing off their youth concept, KPOP boy group BTS released "The Most Beautiful Moment in Life: Young Forever" along with three new songs, "Young Forever", "FIRE" and "Save ME". All three could be on this list, but for me "Save ME" was the one that really stood out. Passionate, and composed, "Save ME" shows off the slower side that "FIRE" doesn't. Laced with synthesizers and soft whistles, BTS proves they are well-rounded in being able to produce dynamic songs. The composition really completes the song, making it sound truly beautiful.
"Aftermath"

Crown The Empire
After the release of  "The Resistance: Rise of the Runaways", Crown The Empire took a step back and changed the direction they were headed in. Dropping the concept of the resistance, they took some time to reevaluate themselves, and came back with "Retrograde". Moving away from their metalcore music and diverging to a more post-hardcore style, "Aftermath" retains some metalcore elements, but is still true to their new sound. With Andrew Velasquez's clean vocals contrasting David Escamilla's roaring vocals, "Aftermath" has outdone itself and demonstrates that changing your sound is not always a bad move.
"Below"

White Lung
Of all the songs from their new album "Paradise", the song "Below" is the one that differentiates itself from the rest of the album. Turning away from their aggressive rock sound, "Below" is melodic with pop influences usually not seen in their music. However, that's not necessarily a bad thing, as "Below" brings Mish Barber-Way's raw vocals to the forefront. A unique take on talking about beauty, White Lung has the ability to captivate the listener with any style of music they create.
"Blood, Sweat and Tears"

BTS
I could say the entire "WINGS" album was one of the my favorite releases, but I decided to choose my favorite song of it, which is really hard considering how well produced this album is and how much I really loved it. "Blood, Sweat and Tears" is the lead single off of "WINGS", and a complete 180 from "Save ME" and "FIRE". Forgetting about loud drums and trumpets, instead it infuses a moombahton trap beat with a more tropical sound. With an addictive chorus, and alluring vocals, "Blood, Sweat and Tears" took a prominent spot on my list at least, for one of the best songs of the year.
"Setting Fires"

The Chainsmokers
An underrated song from their EP "Collage", "Setting Fires" features brother-sister duo XYLO on it. Heavily infused with tropical beats and synthesized drums, "Setting Fires" has a much more different sound then The Chainsmokers previous ones, such as "Roses" and "Closer". A catchy song with a chorus that's bound to be in your head for days, "Setting Fires" easily became one of my most listened to songs of 2016.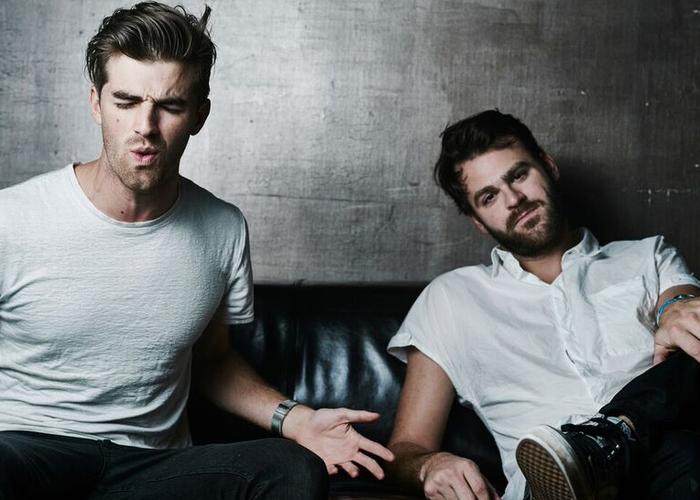 "Someone Like U"

Dalshabet
One of the most underrated KPOP songs of the year goes to girl group Dalshabet with their single "Someone Like U". Utilizing the 80s retro sound that has become increasingly popular in music, "Someone Like U" was filled with charm and attitude. A song about telling off an ex to find someone as horrible as himself. "Someone Like U" had everything to make this a great song. Not only is it a fun and addictive song, Dalshabet's sweet vocals made it an easy listen.
"FXXK IT"

Big Bang
No, I did not add two X's on purpose, that's how Big Bang's latest hit is actually titled, and they don't drop any F-bombs either. Released right before 2016 ended, Big Bang came back with one more album before member T.O.P enlisted in the army (in South Korea every male must enlist in the army for at least two years before they reach a certain age). Finishing what they started, the full album "MADE" included the new song "FXXK IT". Written with the help of several members of the group they proved once again their musical skills and talents. With an eccentric sound that is somewhere between hip hop and EDM, Big Bang once again show their ability to create a unique sound and style that can captivate any listener. 
"Life Changes"

Good Charlotte
Pop-punk at its finest. "Life Changes" is the perfect embodiment of what pop punk is, fast, fun and real. Breaking their hiatus, Good Charlotte came together to release "Youth Authority". Including the hit "Life Changes", Good Charlotte prove that they still are a kick-ass band. Honest and positive, they doesn't hold back on anything. Talking about growing up, relationships and friendships, the song helps capture the essence of youth. A feel good pop-punk anthem that can relate to every age and every person.
"Find Me"

Jun Hyo Seong
KPOP soloist and girl group member of Secret, Jun Hyo Seong came back this year with EP "Colored". Among the songs was the single "Find Me", a melodic and piano driven song. Making use of whistles and dance beats, "Find Me" was an instant catch. Along with Jun Hyo Seong's vocals, rapper D.Action takes a bridge adding to the groove of the song. Although Jun Hyo Seong's vocals are fairly soft, that doesn't deter from this enjoyable song.
"Heartbreak Hotel"

Tiffany
The second member of KPOP girl group,"Girls Generation" to go solo, Tiffany's "Heartbreak Hotel" is filled with a dreamy, and alluring atmosphere. This song was not from her solo EP, but an released as a single. Invoking a much darker tone, Tiffany sings of a relationship that has ended. Her voice conveys a fragile emotional state, and the piano helps to give off the moody vibe that she was aiming for. "Heartbreak Hotel" also employs rapper Simon Dominic to give the contrasting story from the guy's point of view. An atmospheric and hazy song, "Heartbreak Hotel" is perfect for deep-thinking and moody listening.
 "Are We Ready? (Wreck)"

Two Door Cinema Club
Indie rock band Two Door Cinema Club released their third album in 2016. The lead single "Are We Ready? (Wreck)" takes materialism and consumerism head on. Enlisting the help of a children's choir echoing "nah nah nah" and a dramatic urgency that frontman Alex Trimble sings, Two Door Cinema Club know the formula to create a song that is danceable yet filled with dark lyrics. Thanks to the guitar riffs and the children's choir, "Are We Ready? (Wreck)" steps out of just being "indie" and shows a versatile sound.
"Galaxy"

LADIES' CODE
The group's first comeback since the tragic deaths of members EunB and RiSe back in 2014, the remaining three members of KPOP girl group LADIES' CODE released "MYST3RY". In contrast to their bright retro pop sound, the ladies took on a jazzy more R&B approach. Filled with an ethereal sounding synths and the member's beautiful vocals, it is much more "chill" then what we have heard from them prior. I'm not complaining though, they harmonize wonderfully, and in the end create an atmospheric and mature sound that works well with them. 
That was my top 20 songs of 2016! What were your favorite releases last year? I hope you enjoy!
Sincerely yours,
Amy