Has it already been halfway through the year? It's already July, but luckily our favorite artists made sure we weren't in a music drought. Long awaited new music to chart topping comebacks, and it's only 7 months into the year. Here is a list of my favorites so far and my suggestions if you are looking for new music.
*this is not in any particular order
Chase Atlantic

"Triggered"
The Australian  trio caught my attention after popping up on my suggestions to listen to. Composed of two brothers Clinton and Mitchel Cave and friend Christian Anthony, the group's dark sound is what appealed to me. Utilizing sound effects, a saxophone and heavy synths, "Triggered" creates a sultry aura filled with angst and lust. With Mitchel's and Christian's smooth vocals, this song will become your new obsession.
Halsey

"Strangers"
The New Jersey pop artist recently released her long awaited sophomore album "hopeless fountain kingdom", which has the basis of Romeo and Juliet but with much darker undertones and much higher stakes. "Strangers" is sung as a duet with Lauren Jauregui of Fifth Harmony. Their voices molding together fit perfectly and is the duet you didn't know you needed. Written about two female lovers (Halsey and Jauregui are both bisexual) as their love fades and becomes about human touch and not true passion. With Jauregui's raspy vocals against Halsey's voice, it really feels complete and makes the song come to life.
Taeyeon

"Fine"
KPOP singer Taeyeon released for first solo album "My Voice" earlier this year. Spanning several genres from alternative indie to dance pop, she covers it all. A fantastic album, one of the many songs that really caught my ear was "Fine". It is the title track of the record and showcases her powerful and emotional vocals. Lead by a guitar and some background synths, Taeyeon's voice really shines as she sings passionately about not being "fine" after a breakup.  The entire album is honestly worth listening to.
BTS

"Spring Day"
KPOP boy group BTS embarked recently on a sold out world tour from Brazil to Sydney. They also made history by becoming the first KPOP act to go the the Billboard music awards, to be nominated and to win Top Social Artist. Prior to all that, they released a repackaged version of their chart topping album WINGS, called You Never Walk Alone. Adding 4 new songs, they instantly reached #1 on several charts and worldwide charts. One of their title tracks "Spring Day", is truly a beautiful song. It has been mentioned several times, that it was in memory of the Sewol Ferry tragedy costing over 200 students their lives. Emotional, passionate and meaningful, "Spring Day" is a standout that every person should hear.
Sistar

"LONELY"
With the shocking news of this iconic KPOP girl group's disbandment, the quartet released two last songs in wake of the news. Sistar is the group responsible for infectious  summer jams such as "Touch My Body" and "Shake It" or more sultry hits like "Give It To Me" and "I Like That". Their final goodbyes are in much mellower songs "FOR YOU" and "LONELY". Their closeout was in "LONELY" an indie acoustic song with accompanying synths. Although sung about a breakup, it has some correlations as a goodbye to their fans for their 7 years of support. A sorrowful and regretful mood, "LONELY" makes me already miss Sistar. Thank you for 7 years.
Harry Styles

"Sign Of The Times"
I'm sure by now, everyone has heard Harry Styles's solo debut. For those who haven't, Styles was one of the members of pop boyband sensation One Direction. While they are currently on an indefinite hiatus, each member has dabbled in their own solo work. For Styles, his sound is a huge contrast to what One Direction was. Adding classic rock elements and soul, we see a different side of him than before. His first single "Sign Of The Times" really is a standout. Styles is a powerhouse vocalist in this song, and whether you like One Direction is out of the question. Composed, arranged and sung wonderfully, you cannot miss this song.  
Lorde

"Perfect Places" 
The New Zealand pop singer has been releasing a few singles to build up for her sophomore album "Melodrama" which everyone had been anxiously waiting for. One of the singles she released was indeed "Perfect Places". Different from the other two singles she released earlier, it's much more dancey and makes you want to get lost in the city at night. There is however a darker tone underneath it all, as it describes the darker side of teenage partying, drugs and sex. Honest and blunt, Lorde once again holds nothing back but the truth. The happy anthem sound it has contrasts sharply with the more depressive lyrics. But even so, Lorde knows how to make a catchy song and she definitely did with "Perfect Places".
WINNER

"REALLY REALLY"
After the loss of a member, KPOP boy group went on as a quartet. Their first release since 2016, they came back with the EP "FATE NUMBER FOR". Featuring two singles, "REALLY REALLY" has become my obsession since it came out. While WINNER is usually a more jazzy, classical sound, "REALLY REALLY" is an EDM dance anthem. An infectious, catchy song that makes you just want to dance, you won't regret listening to this one.
KYGO

"It Ain't Me"
Norwegian DJ teamed up with pop singer Selena Gomez for this dark but reminiscent track. With piano keys, finger snaps and a soft guitar strum in juxtaposition to the synths, it's what makes this song so relaxing to listen to. Selenas smooth vocals pull in the emotional and nostalgic aspect. Written from the perspective of someone walking away from a toxic and withering relationship, the theme of alcoholism is also quite prevalent. There's something so devastating in Gomez's voice that pulls in all sorts of feelings. But even with the somber meaning, it has glints of hope as she takes a stand to walk away from it all.
BTS

"Not Today"
Of course, I couldn't ignore this underdog anthem by BTS. With a short speech at the beginning by member Namjoon, we are introduced to the song with heavy bass, pounding drums, blaring horns and trumpets and BTS's powerful vocals. BTS takes a stand for all the outcasts, women, underdogs and everyone else who feels the world is against them. Inspirational and encouraging, the boys of BTS create an intense dance song. Saying "not today" they won't fall, this track can encourage anyone to lift their feet and fight again.
Lorde

"Sober"
After Lorde dropped her hotly anticipated album "Melodrama", her song "Sober" instantly became one of my favorites. It's angst ridden with a deep ominous sound. Maybe it's the soft hardly understandable background vocals, or the lyrics itself. Or possibly her whispering "I know the story by heart Jack and Jill get fucked up and possessive when it get dark" hinting at a relationship purely based around a high. That wouldn't be very surprising considering the song itself is about a party and her and her lover who only seem to be in it for the thrills, sex and catching a high. The deep snippy trumpets give off a melancholy vibe as it is consistent with the whole song. There's something saddening about this song yet it makes you want to party your woes away. Maybe that's what she was trying to get across, either way it is a fantastically done song.
Halsey

"Sorry"  
While all of Halsey's songs are deeply personal, "Sorry" is much more raw and emotionally connective. With only a piano, Halsey strips away synths and drums to produce something tragic and regretful. She sings slowly and softly to someone she calls her "unknown lover" and apologizes greatly for how she has treated them. She reassures them they will be loved but it cannot be by her. She has only one other song in which she's done it completely by piano, so hearing her unaffected vocals with just a piano makes this song so pure, emotive and sorrowful. 
Hyolyn & Changmo

"Blue Moon"
The vocalist of former KPOP girl group Sistar, Hyolyn teamed up with rapper Changmo for this EDM track. Possibly one of the most underlooked songs this year, this song is a hidden gem that deserves much more love. Hyolyn soft and raspy vocals contrast Changmo's deeper rap verses yet it mixes to make this an addictive track. Along with heavy piano synths, this song definitely needs more love.
PVRIS

"What's Wrong" 
It's been three years since the electronic rock trio released their debut album "White Noise". Now dropping new singles as they're completing their sophomore effort, so far we have been given two singles, "Heaven" and "What's Wrong". Although I greatly enjoyed "Heaven", "What's Wrong" left a bigger impression. Suggested by the title, lead singer Lynn Gunn sings about "what's wrong". Not straying away from their initial sound, the use synths, sound effects bass and drums to give off a ghostly and haunting atmosphere. In "What's Wrong" she sings against critics and the idea of having power through fame. As Lynn raspily sings "No I never sold my soul" hinting that she will never fall into the pit of fame. The song intensifies and so does Lynn's voice. Ethereal, haunting and atmospheric, PVRIS is the band to keep an eye out for.
MisterWives

"Machine"
Indie pop band MisterWives is back at it creating infectious jams. Always bold and unafraid to speak their minds, lead by Mandy Lee who has an incredibly unique voice. Freshly off of debuting their sophomore album "Connect The Dots", the album is full of life. However before that was released, they teased the record with dropping songs. One of them so happened to be "Machine". Blunt and straight to the point, they reject making music that sounds the same and refuse to let anyone else write their own songs but them. They want to create their own versatile sound, and oh have they accomplished that. Mandy Lee's vocals again prove her place as a singer, and MisterWives prove again they don't need anyone to make their music.
In This Moment

"Roots"
One of the heavy bands I started listening to in 7th grade when I started listening to metal and hard rock. This metal band fronted by Maria Brink has seen a great diversity in their music. Their last two records have been much more experimental, utilizing electronic elements and theatrics such as dancing and costumes. However, they dropped the whole concept starting fresh again. Turning in a more hard rock sound with the industrial sound from before and electronics elements put to a minimum. Maria Brink's powerful and aggressive vocals shine as she calls out everyone who hurt her and how they made her stronger. In full force as Maria sings and screams, this is the In This Moment style I loved, and I can't wait for the album "Ritual".  
All Time Low

"Life of the Party" 
The beloved pop-punk quartet has been evolving and ever-changing with their sound. This time, they took a darker and softer sound with their new album "Last Young Renegade". One of the darkest songs on "Last Young Renegade". An internal battle of who they were, what they've become and who they want to be. Tying in the newer sounds of synths and pop with electric guitar riffs, "Life of the Party" stays as an anthem sounding song yet has a much grimmer meaning. Personally one of my favorite songs so far, All Time Low doesn't disappoint with their music.
Taeyeon

"Fire"
There's something about Taeyeon's fresh vocals that brings me in. On her debut album "My Voice" of course all her songs show off her incredible talent, but "Fire" can prove any doubters that Taeyeon indeed can sing. The alternative soft rock ballad has Taeyeon reaching long and high notes over a strummed guitar. While she is more known for her indie acoustic music, stepping into more of an alternative genre only shows off her diversity in genres. 
Ed Sheeran

"Castle on the Hill"
Surely by now you must have heard this chart topping hit by Ed Sheeran. The fast paced nostalgic track brings Ed back to his time growing up in England. With quick playing guitars, drums and inserts of  piano medleys, Sheeran sings about his past and childhood. Sheeran rasps his voice more but it works making it seem all more raw. From driving down the roads at 90 miles per hour, singing Tiny Dancer, and just making memories with his friends, he crafts the perfect song to reminisce your past on.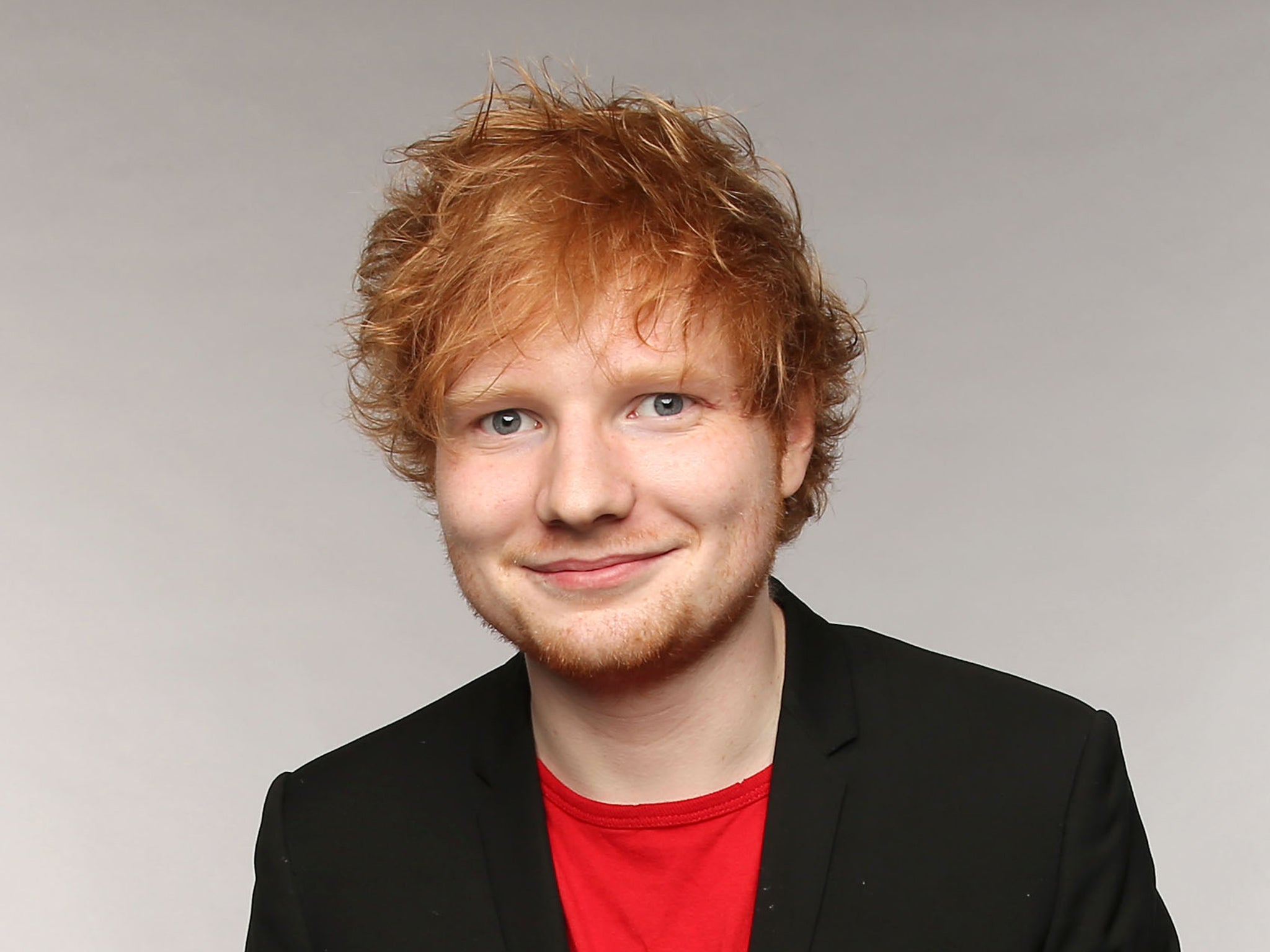 Shawn Mendes

"There's Nothing Holdin' Me Back"
The 18 year old singer who hails from Canada broke out in the past few years. From humble beginnings on the social media app Vine to joining the MAGCON, a tour of young social media stars, Mendes has only been in the music business for a bit. However, he has made a huge impact already, especially on the top charts. Earlier this year he released his second album "Illuminate" with several of his songs receiving huge amounts of radio play and peaking considerably well on music lists around the world. His song "There's Nothing Holdin' Me Back" was one of them, and one which happens to be a favorite of mine. A quick paced guitar driven romance song, Mendes again creates earworms due to lyrical consistentes. The track's chorus helps pack a punch by showing just how good Mendes's vocals are. An infectious pop hit that is perfect for dancing too, the young singer continually rises and it looks like there's nothing holding him back. 
BTS

"A Supplementary Story: You Never Walk Alone"
One of the new songs added to the repackaged version of their album "WINGS", "You Never Walk Alone" is the last song on the tracklist. A mid tempo, upbeat song, with lyrics of encouragement, although shorter than their normal songs, it still packs a powerful punch. Like the title, the lyrics "You Never Walk Alone" are are a big part of not only the song but the record too. Truly an underlooked song, "You Never Walk Alone" is worth the listen.
BTS

"Come Back Home"
Ok so this isn't BTS's song, this is actually a cover by a legendary Kpop trio Seo Taiji and The Boys. In honor of their 25th anniversary several Kpop artists handpicked by Seo Taiji and The Boys are remaking some of their hit songs. BTS covered "Come Back Home", an electric hip hop song about youth, but BTS added their own touch. While still doing justice to the original, they were able to still make it new and fresh.
Hey Violet

"My Consequence"
The pop rock band has finally released their debut album. Originally known as Cherri Bomb and as an all female band, with the loss of lead singer Julia Pierce, the group rebranded as Hey Violet. Now lead by Rena Lovelis, they also gained Iain Shipp, and supported pop punk group 5 Seconds Of Summer on their tour. Between touring and releasing EPs, Hey Violet gained quite a fanbase. Now lead by Rena Lovelis, they released a series of singles leading up to their first album, "From The Outside". "My Consequence" is an interesting song, lyrically wise. With parts like "when you spill your guts they don't go back in" and "so take your razor love and run it down my skin", it may make you shiver, but this is a love song. In fact it's actually sung about being in love with someone and telling them you love them, yet they hurt you in the end. An atmospheric, dark pop song, "My Consequence" will take you away.
Brave Girls

"Rollin'"
This 5 piece Kpop girl group came back with one of the best Kpop songs this year. I admit, this is one of the only songs I know of theirs, but I am so glad I stumbled across it. A deep house EDM track, "Rollin'" is an incredibly catchy song, especially during the hook. While it is about a girl who wants the feelings of a boy, Brave Girls created the perfect dance club song and definitely one of the most addictive songs of the year already.
BLACKPINK

"As If It's Your Last"
Rookie Kpop girl group has already made waves with their amazing debut last year, and just continue with their newest comeback. Connecting the idea that they have two sides a "black" and "pink" side, for this comeback they choose the latter, however they're still as fierce and badass even doing the "pink" or cuter concept. A mixture of a club, funky beat and pure pop, the beat drop is definitely a YG style (YG is the company they are under). Definitely a great song, BLACKPINK is in your area and won't be leaving anytime soon. 
I am beyond excited to see what the rest of 2017 has in store for us!
Sincerely Yours,
Amy